Welcome to the Westfield United Fund!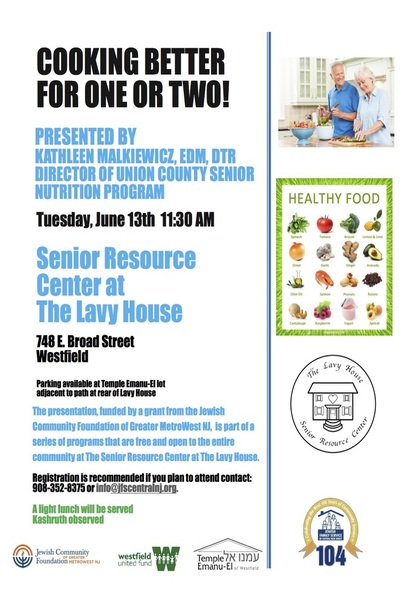 Our Mission is to help people in our area who need care and social services.
Our Purpose is to fund quality programs provided by independent agencies approved by the Westfield United Fund. We strive to identify unmet needs and to support programs and services that address the needs of individuals, families, teens, children, and seniors, including those with physical and psychological disabilities.
Our Goal is to be a community resource for residents in need as well as those looking for ways to give back.
Lavy House Hosts Monthly Information Sessions
Please join us on Tuesday, June 13 at 11:30am for "Cooking Better for One or Two!" Our presenter is Kathleen Malkiewicz, Certified Dietician and Director of the Union County Senior Nutrition Program. She will give you some tips and answer your questions. This presentation is free and open to the public. Bagels and coffee will be served.
The Lavy House Senior Resource Center opened on January 1, 2016. Since then, monthly information sessions have drawn seniors and their families in to learn more about the issues that concern them. Recent topics have included: Making Your New Year's Fitness Resolutions a Reality, Managing Chronic Illness, Nutrition for Seniors, Community Resources for Older Adults, Choosing a Home Health Aide, Medicare 101, Alzheimer's/Dementia and Falls Prevention. The presentations are coordinated with Jewish Family Service of Central NJ and funded by a grant from the Jewish Community Foundation of Greater MetroWest NJ. These programs are free and open to the entire community. 
The Lavy House Senior Resource Center is a joint project of the Westfield United Fund, Jewish Family Service of Central NJ and the Congregation of Temple Emanu-El. It is located in the Dr. Norman Lavy Community House, 748 East Broad Street, adjacent to the Temple property. The purpose of the center is to provide free information about local programs and services for all seniors in our community and their families. The Center is staffed by a licensed social worker provided by Jewish Family Service of Central NJ through a grant from the Jewish Community Foundation of Greater MetroWest NJ on Tuesdays from 9:30am-4:30pm. Please call 908-389-1263 to make an appointment.
Check Out Our New Video!
Fund Distribution Makes the Hard Choices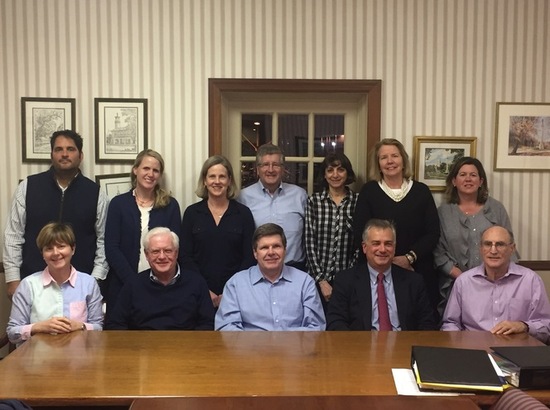 Many thanks to the members of this year's Fund Distribution Committee for their hard work! This group does the due diligence for the WUF, examining the programs we are asked to fund, and determining the best use for your charitable dollars. Together We Make a Difference!
Back row: Greg Blasi, Carrie Sumas, Jessica Stewart, Mark Lynch, Denise Ricci, Bernadette Houston, Ginny Malley. Front row: Carolyn Tenney, Denis Sullivan, Bob Gallagher, Mark Ukrainskyj, Mike Feldman. Not pictured: Jane Collins.
Many Thanks to Our Retiring Trustees!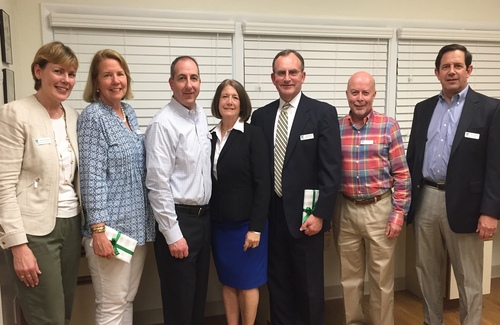 This year's Annual Meeting was held at the offices of our local Girl Scout Council, Heart of New Jersey, on May 16th. We thanked our retiring trustees for their many contributions to the WUF over the years. We will miss you all! 
Pictured (l. to r.) are Deirdre Gelinne, Executive Director; Bernadette Houston, Dave Tepp, Darielle Walsh, John Schmidt, Jim McCabe, and Rick Malacrea, President of the Board of Trustees. Not pictured: Pete Echausse, Karen Heffron, Paul Zoidis.
(We also welcomed four new trustees, pictured on the Our Board page.)
Two River Bank Supports the WUF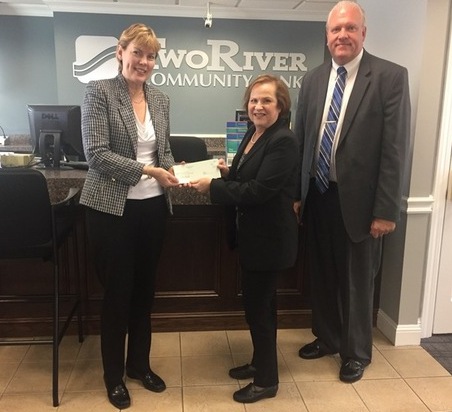 Executive Director Deirdre Gelinne receives a check for our annual campaign from Two River Bank executives Jodi Weinberg and Jeff Schneider.
Did You Miss the WAVE?
Our third annual Westfield Area Volunteer Expo was held on September 30, 2016.
Representatives from the following organizations participated. If you missed it and would like to volunteer, please Google the name of one you are interested in and you will see their website. Links to the agencies of the Westfield United Fund can be found on our Agencies & Programs page under the What We Do section.
*ARC of Union County, Boy Scouts PPC, Central Jersey Legal Services, College Woman's Club of Westfield, Community Access Unlimited, Court Appointed Special Advocates, Downtown Westfield Corp, EZ Ride, Friends of the NJ Festival Orchestra, Friends of the Westfield Memorial Library, Furniture Assist, Girl Scouts Heart of NJ, Greater Westfield Area Chamber of Commerce, Habitat for Humanity, Imagine, Jewish Family Service of Central NJ, Lavy House Senior Resource Center, Literacy NJ, Mobile Meals of Westfield, Prevention Links, Trinitas Regional Medical Center, Westfield Area Y, Westfield Food Pantry, Westfield Kiwanis Club, Westfield Recreation Dept, Westfield Rotary Club, Westfield United Fund, Youth & Family Counseling Service, YWCA Union County
Meet The Origami Club Kids!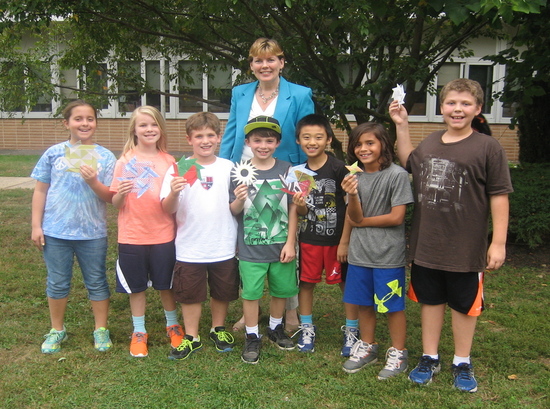 A group of fourth graders at Jefferson School who call themselves the Origami Club recently donated $155!  As Cottler Vierschilling explained in a letter to the WUF, he and some of his friends at school wanted to do something to help people in our community. They had also become interested in origami, the Japanese art of paper folding, and enjoyed learning to make a variety of shapes. They decided to form the Origami Club and began building an inventory of different shapes, following the instructions they found on Youtube. They made about 350 swans, stars, etc., which they sold to classmates at Jefferson School, along with lemonade.
Cottler's parents suggested that they donate the proceeds to the Westfield United Fund, since we help lots of people in the community. This was our first donation from a kids club! It's wonderful to see a group of kids who care about others in the community, and take action to help. What a great example of compassion in action! 
Coldwell Banker East Supports WUF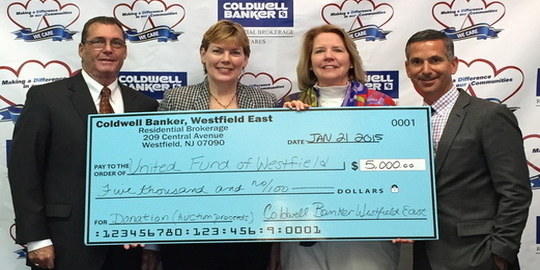 On January 21, 2015, our Executive Director, Deirdre Gelinne, happily accepted a generous donation from a local Coldwell Banker office, Westfield East. The agents conducted an internal fundraiser in November, and donated the proceeds to several local charities. We are grateful and proud to be chosen as one of their recipients. Many thanks, Coldwell Banker! 
Pictured in the photo above are John Bradley, Sales Manager of the CBWE office, Deirdre Gelinne, Bernadette Houston and Frank Isoldi. Bernadette and Frank are WUF trustees as well as Coldwell Banker agents.