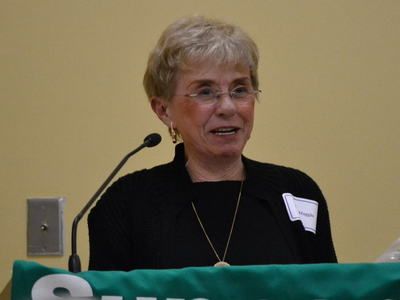 Seventy-five years is a milestone in the life of any organization, especially one conceived in the depths of economic depression. The year was 1937 when a group of Westfielders banded together to look after each other with a simple but revolutionary concept: One fundraising drive to support five local charities that served their neighbors in need. The United Campaign for Westfield Social Services was born.
"Give Once, and for All" was the rallying cry of that original 10-day campaign, tallied by the now-iconic thermometer. Later renamed the Westfield United Fund, the fundraising drive continued through those early years as a volunteer effort meeting the needs of children, the elderly and the handicapped in a rapidly growing and changing community.
Fast-forward forty years to 1975 and the arrival of the fund's first professional executive director,
a whirlwind of energy and enthusiasm named Linda Maggio, pictured above. Fresh from the leadership ranks of the PTO and Westfield Service League, Linda was hired to revive the flagging campaign. She hit the ground running.
"We hadn't made our goal in seven years, yet the community's needs kept growing," Linda recalls.
"I would do anything to get your attention." Her first event is still a favorite: 15 Volkswagon beetles, each bearing the name of a member agency, paraded to the stadium on a football Saturday led by the WHS Marching Band. Now "on a roll," any vehicle was fair game for the Linda juggernaut: roller skates, convertibles, even a chartered train. The "Maggio era" was born.
Everything about the fund has increased exponentially under her stewardship: member agencies, campaign contributions, volunteer commitment. Those five initial charities have given rise to 20 different social service organizations, ranging from the ARC of Union County to the Westfield Y,
and the original goal of $32,000 has since exceeded $700,000. All told, the fund has distributed
over $25 million dollars since its inception in 1937. The founding premise, however, remains the same: "Your gift goes far, but not far away."
Over her nearly 40-year tenure, Linda has observed, and met, the changing needs of the community. The rise of families with two working parents, for example, has created greater demand for day care, while Westfield's growing senior population has generated a need for services like Mobile Meals and the American Red Cross handyman program. Literacy Volunteers, the fund's newest member agency, provides English tutoring to the immigrant community that now lives and works in the area.
In addition to ongoing support, the fund prides itself on its quick response to emergency appeals,
from World War II relief in the 1940s to a grant for disaster clean-up following Hurricane Irene.
The Westfield United Fund's response to September 11, 2001 – over $1 million in contributions and services raised for the families affected -- became a statewide model.
With her Shih Tzu, Molly, in tow, Linda still pounds the pavement, calling on town officials, donors, and local businesses in her single-minded mission to promote the Westfield United Fund. "The family of agencies that we support touches every population in Westfield: children, the elderly, low-income families, the physically and developmentally disabled," notes Linda. "Whether you directly benefit from them or not, the vital services they provide day in and day out help keep Westfield the vibrant, diverse and caring community that we all love."