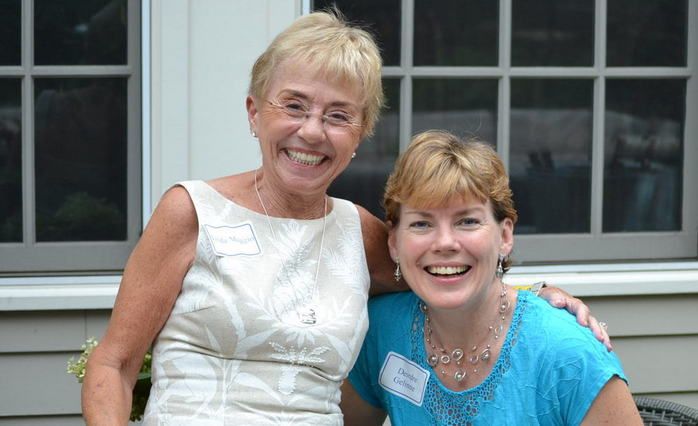 The Board of Trustees of the Westfield United Fund (WUF) has announced that Linda Maggio, Executive Director for the past thirty-eight years, will assume the position of Director Emeritus, effective October 1, 2012. Deirdre Gelinne, assistant director and a past WUF volunteer, will become the fund's new Executive Director.
Ms. Maggio joined the Westfield United Fund as Executive Director in 1975, overseeing its transition from a largely volunteer effort to a professional fundraising organization. During her tenure, the fund has greatly expanded its role in the community, more than doubling its annual fundraising -- from $292,250 to a high of $719,100 -– and substantially increasing its member agencies and volunteer participation.
Among the highlights of Ms. Maggio's tenure were the launch of a commuter campaign for payroll giving and the creation of the Pillars Club, the fund's leadership giving program, which now accounts for over two-thirds of the annual goal. She also established the fund's offices in the historic Northside train station.
In her many years with the fund, she has witnessed and responded to the changing needs of the community. The rise of two-income families, for example, has created a greater demand for childcare, while Westfield's growing senior population has generated a need for services like Mobile Meals and senior transportation. The fund currently supports 20 member agencies that serve children, the elderly, low-income families and the physically and mentally disabled.
Ms. Maggio's devotion to Westfield has extended beyond her role at the WUF. In 1994, she chaired Westfield's bicentennial celebration commission, organizing a townwide time capsule, costume ball, parade and revue. In a more somber effort, she was asked by Mayor Greg McDermott in 2001 to coordinate the immense outpouring of support for Westfield's 9/11 widows. The aid groups she organized became a model for other communities throughout the state.
"The town of Westfield has been blessed to have Linda's compassionate, dedicated leadership at the helm of this organization for nearly four decades," said Charlie Weidman, President of the Board of Trustees. "While she is impossible to replace, we are confident that the fund will continue to thrive under the new leadership of Deirdre Gelinne, who embodies so many of the same outstanding professional and personal qualities as Linda."
As Director Emeritus, Ms. Maggio will continue her association with the WUF in a consulting role, acting as an advisor on special projects. She has been a Westfield resident since 1962; she and her husband Glenn also reside in Long Beach Island, near their daughter, Stacey.
"The Westfield United Fund has been like a second family to me," said Ms. Maggio. "It has been an immense joy working with so many dedicated volunteers -- over 160 different trustees at last count – who share my love of Westfield. While it is bittersweet turning over the reins, I take tremendous satisfaction knowing that the agency we created will be in very capable and caring hands."
Deirdre Gelinne has been serving as Assistant Executive Director of the Westfield United Fund since February, following an extensive search. She has been instrumental in increasing the fund's online marketing efforts through a new website and Facebook page. Prior to joining the staff, she was a volunteer on the WUF campaign telethon and nominating committees.
Ms. Gelinne has been active in several Westfield organizations, including as co-chair of BRAKES, a pedestrian safety group. She was a founding member of "Save the Rialto," a grassroots effort that successfully advocated to preserve the local movie theater. She has served as president of the parent organizations for Wilson and Roosevelt schools, and Mount Saint Mary Academy. She is an active member of St. Helen's Church, the College Woman's Club of Westfield, Westfield Service League and Westfield Girl Scouts.
Ms. Gelinne has worked in finance for Irving Trust (now Bank of New York/Mellon) and Marine Midland (now HSBC). She holds a BA from Georgetown University and an MBA from New York University. She and her husband David have been Westfield residents since 1993 and have three children, Katherine, Brian, and Caroline.
"I am honored and excited to follow in Linda's footsteps," said Ms. Gelinne. "Through her passion and dedication, the Westfield United Fund has become such a vital part of our town. I welcome this opportunity to give back to the community I love and to continue her legacy of Westfielders caring for Westfielders."
Founded in 1937, the Westfield United Fund is currently celebrating its 75th year. Since its inception, the fund has raised and distributed over $25 million to a broad range of social services agencies. The 2012-2013 campaign kicked off this month with a goal of raising $625,000. For additional information or to contribute, please contact www.westfieldunitedfund.org.