80 years of caring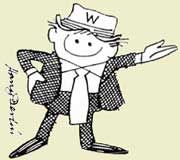 1938 - Originated as the United Campaign of the Westfield Social Agencies.

1957 - Incorporated as the United Fund of Westfield after a townwide survey was conducted by Mayor H. Emerson Thomas.

1973 - Moved into our current Westfield train station office location from the Municipal Building.

1975 - Linda Maggio became our Executive Director.

1975 - Formally affiliated with The United Way of America.

1975 - Established thermometer outside our offices to provide visual notice of our campaign's progress.

1999 - Initiated a survey to identify the needs of town residents, which resulted in the development of the Westfield Organizations Resource Directory, (WORD), found on our Resources page.

1999 - Established a daily transportation program for senior Westfield residents, in partnership with the American Red Cross and the Town of Westfield.

2000 - Helped settle refugee families from Kosovo into Westfield, working with the Westfield Caring Community Council.

2001 - Established the September 11th Committee to provide many levels of support for the families affected by the devastation.

2009 - Ended our affiliation with The United Way of America and The United Way of Greater Union County, and returned to our roots as the Westfield United Fund.

2010 - Started an After School Tutoring Program in partnership with the Westfield Board of Education, providing homework help for children in need at the six elementary schools.

2012 - Linda Maggio retired; Deirdre Gelinne became our Executive Director.
After Superstorm Sandy, the Town of Westfield asks the WUF to accept donations from residents who want to help neighbors whose homes were damaged, and disburse funds for repairs to those who need it most.