To keep up with the latest news and information about the Westfield United Fund and our member agencies, check back with us regularly, and don't forget to Like us on Facebook! To receive our monthly emails, go to the Stay in Touch page.
 
Click to expand each photo
Mobile Meals Volunteer

Jeannette receives a hot meal from a Mobile Meals volunteer.

Thanksgiving at Mobile Meals

Executive Director Deirdre Gelinne is seen here with Cook Margaret Cox, left, and Manager Josephine Walsh, right, representing Mobile Meals of Westfield.

WUF Senior Transportation Program

(l. to r.) Deirdre Gelinne and Linda Maggio present Bruce Kaufman, Recreation Director, and Jim Gildea, Town Administrator, with a "check" for $17,500 to enable the Town to continue the Senior Transportation program through the end of 2012.

Commuter Kick-Off

We got up bright and early on September 20 for our Commuter Kick-Off at the train station! With the help of some trustees and agency representatives, we distributed WUF information, along with free coffee.
(l. to r., Trish Felix and Debbie Dreher from the ARC, Trustee Gwyneth Cote, Exec. Dir. Deirdre Gelinne)
Coldwell Banker East Supports WUF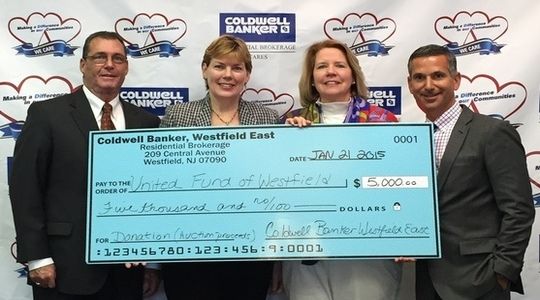 On January 21, 2015, our Executive Director, Deirdre Gelinne, happily accepted a generous donation from a local Coldwell Banker office, Westfield East. The agents conducted an internal fundraiser in November, and donated the proceeds to several local charities. We are grateful and proud to be chosen as one of their recipients. Many thanks, Coldwell Banker! 
Pictured in the photo above are John Bradley, Sales Manager of the CBWE office, Deirdre Gelinne, Bernadette Houston and Frank Isoldi. Bernadette and Frank are former WUF trustees as well as Coldwell Banker agents.
More stories...
I had the chance to get a great job with NJ Transit, but there was one catch: I needed a high school diploma. I had been out of school for 30 years, but with the help of Literacy Volunteers, I began preparing to take the GED. I met with my tutor, Dawn, every week, and she helped me build my confidence. The first time I took the test, I passed all of the sections except the Math. I missed it by just 4 points!

In the past, I might have given up, but with Dawn's help, I hit the books again, determined to pass before January 1, 2014, when a whole new test was taking effect. I'll never forget how nervous I was when I got that envelope in December. Thankfully, I passed – what a relief! Now I can get that job (with benefits!) and continue my education. Even more important, I'm setting a good example for my kids. Education counts.

Thanks to your support of the Westfield United Fund, 49 students in Union County passed the GED in 2013. For many of them, this is just the beginning. Some, like Gerald, are qualifying for better jobs than they had before, while other graduates are continuing their education at local colleges and universities. Many are voting for the first time, and parents are learning the joy of reading to their children. Their lives have been transformed through literacy, thanks to their hard-working tutors, and to generous donors like you who make their work possible.

Together We Make a Difference!
"I never thought that I would need help."
Until last year, Diana Cohen and her husband Harold were active older adults, living independently and enjoying the pleasures of family, friends and travel.
A long-time supporter of Jewish Family Service, Diana said, "I always thought that JFS was there to help other people. I never thought that I would need help."

Everything changed for Diana last Thanksgiving, when she fell while visiting family in Vermont. She sustained serious injuries, and faced hospitalization, surgery, and the prospect of a long recovery. Her biggest worry was that she and her husband would not be able to cope with all of the logistics of her care once they returned home. "I didn't know what to do," she said, "so I called Tom."

Tom Beck, the Executive Director of Jewish Family Service, reassured her
at once. "Don't worry," he told her. "We'll send someone to your house the day you come home." That someone was Rochelle Brodsky, one of the Nurse Coordinators
at JFS. Rochelle immediately took charge, laying out a plan for Diana's care and recovery. She even "patient-proofed" the Cohen's home. "Rochelle made all the difference," says Diana, who is now fully recovered.

As a member of the Westfield United Fund, You make all the difference in
the lives of many people like Diana, who never thought that they would need help. Through your generosity, our agencies are able to provide vital services, so that seniors get the care they need to stay in their homes, low-income families receive child-care support, and people of all ages benefit from programs that address their physical and mental health needs.

This holiday season, as you celebrate with family and friends, remember that there are people nearby who need your help … some who never thought they would.

Together We Make a Difference!
Thanks to You, Ashley Has a Home!
When I asked Ashley what she liked best about the beautiful new house she had recently moved into, she said, "It's a real home." A simple, but powerful statement. How many of us stop to appreciate our homes on a regular basis? Whether it's large or small, old or new, each of us has a home where we can truly relax and be comfortable.

Not everyone can say this, especially people with disabilities, who are often housed in institutional buildings. But thanks to the work of our agency partner, Community Access Unlimited, more people like Ashley are living in real homes. Not only is this a wonderful change for them, it's a good thing for our community as well.

CAU buys rundown houses, and either replaces them or rehabs them to suit the needs of "differently abled" people. The community's housing stock is improved, and disabled citizens become regular neighbors. Within their homes, they receive compassionate support from an attentive staff of caregivers.

You make this possible! With your support, Ashley and others like her are able to live with privacy and dignity, as full and independent citizens of our community.

When you give to the Westfield United Fund, you change lives …
for the better.