WUF and Partners Fight Hunger in Union County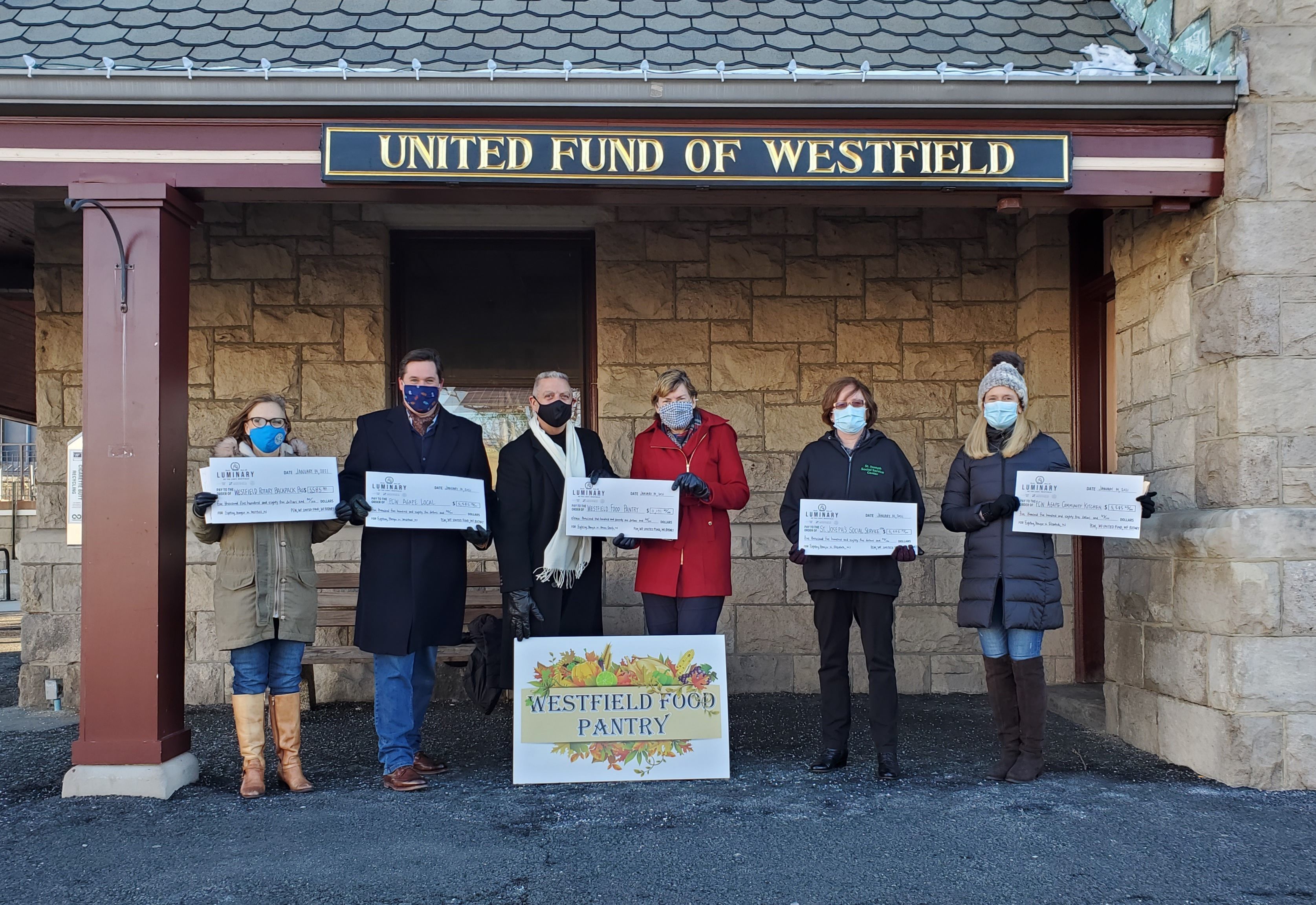 Thanks to all who donated to Be the Light, Westfield! With your help, we raised over $30,000 to fund hunger programs that feed people in our community. Proceeds were shared by the Westfield Food Pantry, the Westfield Rotary Club, St. Joseph's Social Service Center and the feeding programs of the Presbyterian Church of Westfield.
This initiative was followed by the Westfield Holiday Hunger Campaign, which raised almost $50,000 to help feed people in our community who depend on our local food pantries, including a $10,000 grant from the Westfield Foundation, and a $7,000 donation from Streetworks Development. We are grateful for your support and your caring for the less fortunate among us. Proceeds were received by the Community FoodBank of NJ, which distributed them to food pantries in Union County.
Special thanks to John Rzeznik of the Goo Goo Dolls, who kicked off the campaign with a special Christmas concert and provided a number of items for the auction, including a private concert.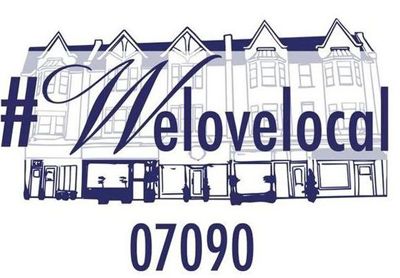 The We Love Local fund was created by Mayor Shelley Brindle, in partnership with the Westfield United Fund, to support independently owned Westfield businesses during this unprecedented time. The Westfield United Fund matched the first $15,000 donated, and the Westfield Foundation added a $30,000 match. Donations topped $270,000 (including the matching funds) from more than 850 residents. More than 175 local businesses have received grants from the We Love Local fund, and we, in turn, have received many messages of gratitude from these business owners. This was a truly inspiring example of the Westfield community coming together at a time of urgent need.
Thank you so much to everyone who donated and helped make this effort successful!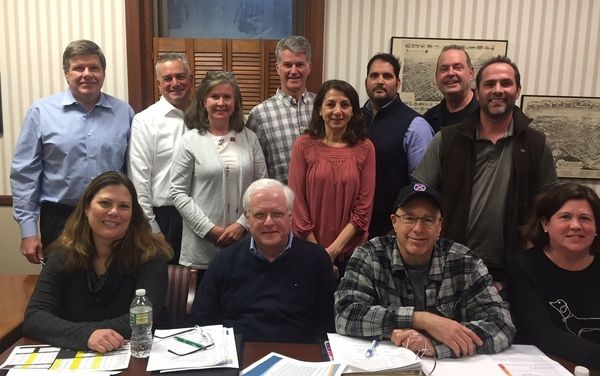 Fund Distribution Makes the Hard Choices
Thank You to the members of our Fund Distribution Committee for their hard work! This group does the due diligence for the WUF, examining the programs we are asked to fund, and determining the best use for your charitable dollars. That's the WUF Difference!
Back row: Bob Gallagher, Mark Ukrainskyj, Emily Howell, Rob Mustard, Denise Ricci, Greg Blasi, John Gagliano, Geoff Marino; Front row: Caroline Ellison, Denis Sullivan, Ken Zierler, Ginny Malley Not pictured: Beth Riordan
Check Out Our Short Video to See Our Impact!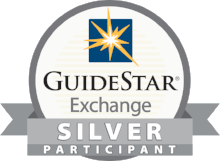 Amazon Smile
Did you know that you can support the Westfield United Fund through the Amazon Smile program? When you shop with Amazon, they will donate a portion of your purchase price to us! Just click on the following link, or paste it into your browser: 
http://smile.amazon.com/ch/22-1616758
Meet Our Staff!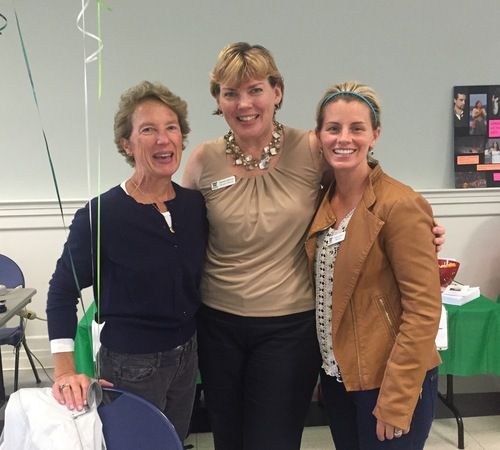 Photo: Business Manager Nancy Vickers, Executive Director Deirdre Gelinne and Administrative Assistant Susan DiIorio keep the WUF on track!
Newcomers Club "Crawls" to support WUF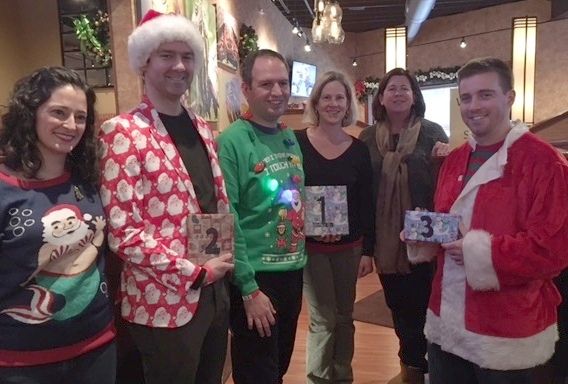 Many thanks to Beth McDonough Saad and her friends in the Newcomers Club, who raised money for the WUF during their first annual Ugly Christmas Sweater Bar Crawl! Sadly, the crawl will not take place this year, due to the pandemic, but we look forward to continuing the tradition next year!
Photo: Beth, at left, with Ugliest Sweater winners Ed Pyne, Ian Hooks and Dennis Sheehan, and WUF Trustees/judges Jessica Stewart and Ginny Malley.
Meet The Origami Club Kids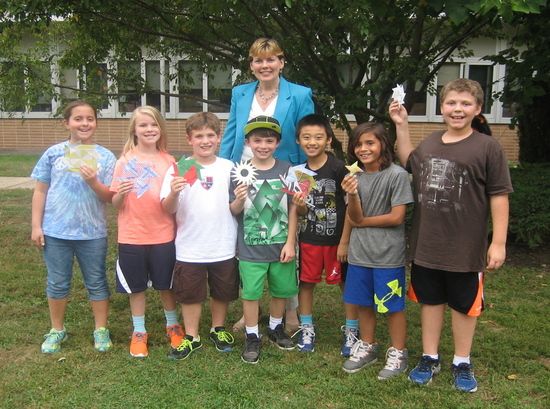 A group of fourth graders at Jefferson School who call themselves the Origami Club recently donated $155!  As Cottler Vierschilling explained in a letter to the WUF, he and some of his friends at school wanted to do something to help people in our community. They had also become interested in origami, the Japanese art of paper folding, and enjoyed learning to make a variety of shapes. They decided to form the Origami Club and began building an inventory of different shapes, following the instructions they found on Youtube. They made about 350 swans, stars, etc., which they sold to classmates at Jefferson School, along with lemonade.
Cottler's parents suggested that they donate the proceeds to the Westfield United Fund, since we help lots of people in the community. This was our first donation from a kids club! It's wonderful to see a group of kids who care about others in the community, and take action to help. What a great example of compassion in action! 
Come Shop with Furniture Assist and Help Local Families in Need!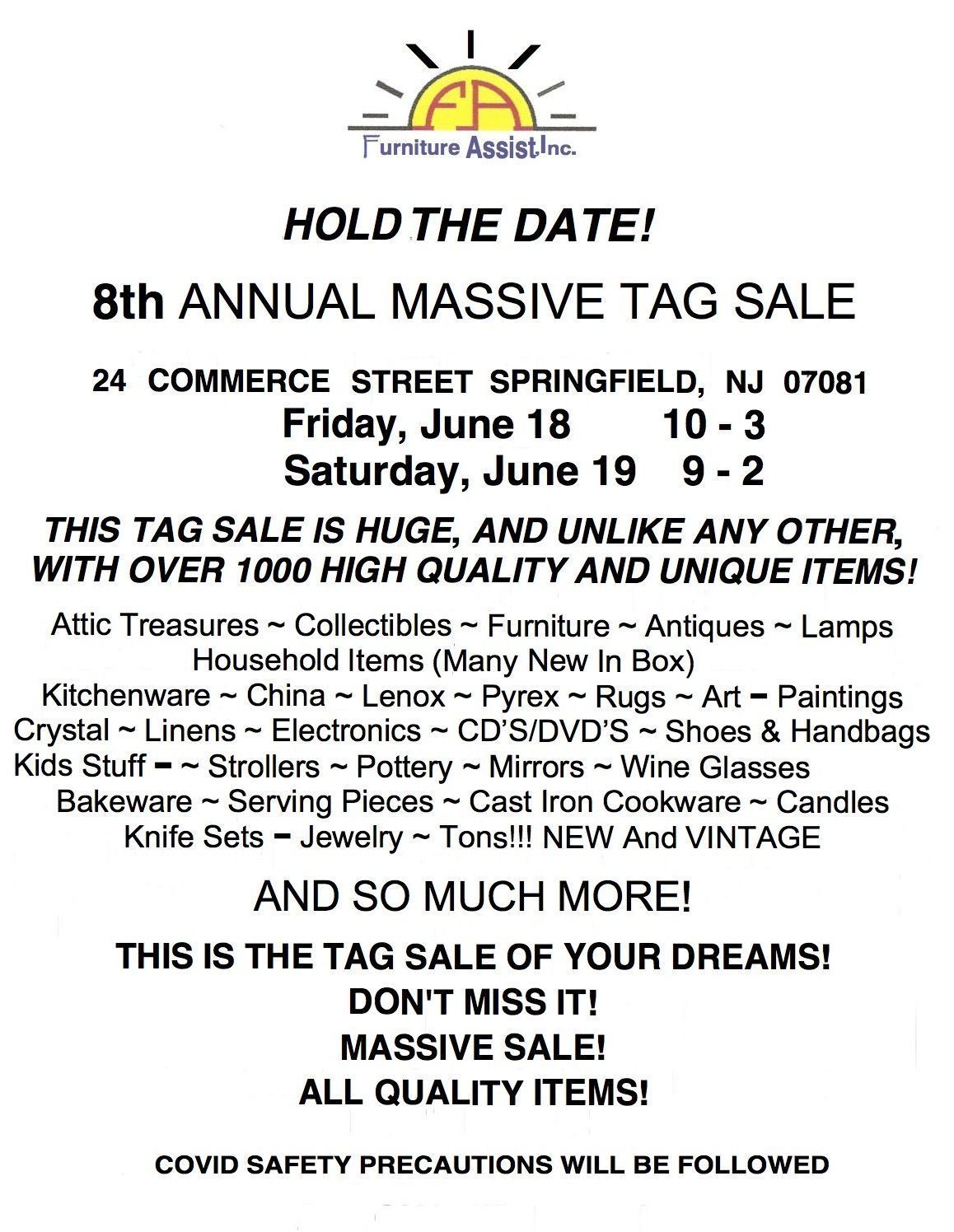 Furniture Assist is also looking for volunteers to help out with the sale.
Call 973-868-6007 to volunteer.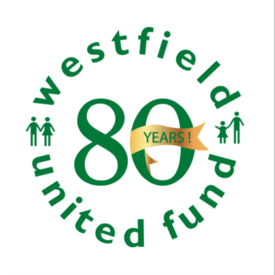 News & Events
I had the chance to get a great job with NJ Transit, but there was one catch: I needed a high school diploma. I had been out of school for 30 years, but with the help of Literacy Volunteers, I began preparing to take the GED. I met with my tutor, Dawn, every week, and she helped me build my confidence. The first time I took the test, I passed all of the sections except the Math. I missed it by just 4 points!

In the past, I might have given up, but with Dawn's help, I hit the books again, determined to pass before January 1, 2014, when a whole new test was taking effect. I'll never forget how nervous I was when I got that envelope in December. Thankfully, I passed – what a relief! Now I can get that job (with benefits!) and continue my education. Even more important, I'm setting a good example for my kids. Education counts.

Thanks to your support of the Westfield United Fund, 49 students in Union County passed the GED in 2013. For many of them, this is just the beginning. Some, like Gerald, are qualifying for better jobs than they had before, while other graduates are continuing their education at local colleges and universities. Many are voting for the first time, and parents are learning the joy of reading to their children. Their lives have been transformed through literacy, thanks to their hard-working tutors, and to generous donors like you who make their work possible.

Together We Make a Difference!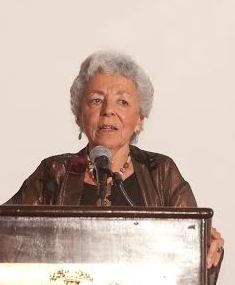 "I never thought that I would need help."
Until last year, Diana Cohen and her husband Harold were active older adults, living independently and enjoying the pleasures of family, friends and travel.
A long-time supporter of Jewish Family Service, Diana said, "I always thought that JFS was there to help other people. I never thought that I would need help."

Everything changed for Diana last Thanksgiving, when she fell while visiting family in Vermont. She sustained serious injuries, and faced hospitalization, surgery, and the prospect of a long recovery. Her biggest worry was that she and her husband would not be able to cope with all of the logistics of her care once they returned home. "I didn't know what to do," she said, "so I called Tom."

Tom Beck, the Executive Director of Jewish Family Service, reassured her
at once. "Don't worry," he told her. "We'll send someone to your house the day you come home." That someone was Rochelle Brodsky, one of the Nurse Coordinators
at JFS. Rochelle immediately took charge, laying out a plan for Diana's care and recovery. She even "patient-proofed" the Cohen's home. "Rochelle made all the difference," says Diana, who is now fully recovered.

As a member of the Westfield United Fund, You make all the difference in
the lives of many people like Diana, who never thought that they would need help. Through your generosity, our agencies are able to provide vital services, so that seniors get the care they need to stay in their homes, low-income families receive child-care support, and people of all ages benefit from programs that address their physical and mental health needs.

This holiday season, as you celebrate with family and friends, remember that there are people nearby who need your help … some who never thought they would.

Together We Make a Difference!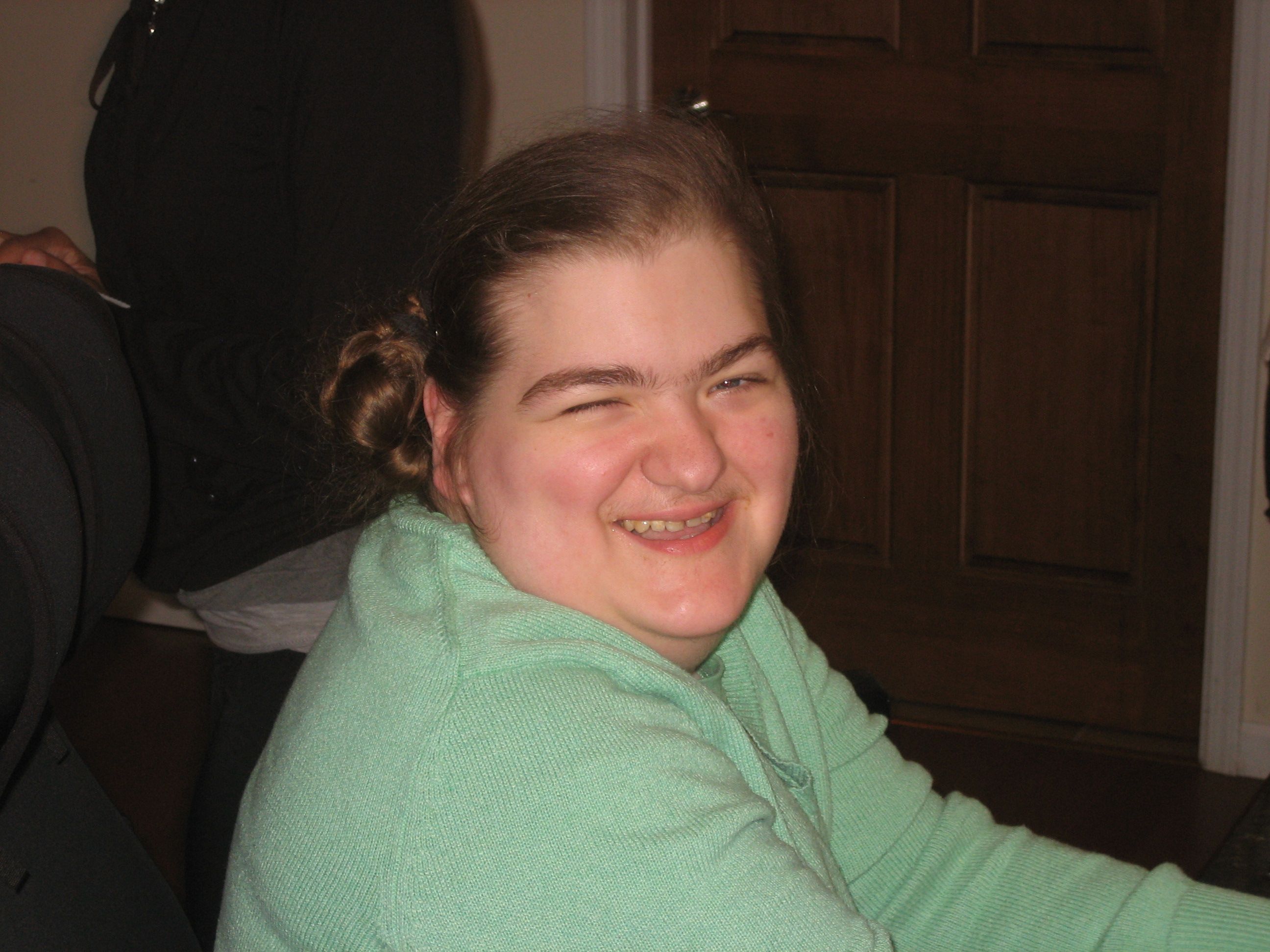 Thanks to You, Ashley Has a Home!
When I asked Ashley what she liked best about the beautiful new house she had recently moved into, she said, "It's a real home." A simple, but powerful statement. How many of us stop to appreciate our homes on a regular basis? Whether it's large or small, old or new, each of us has a home where we can truly relax and be comfortable.

Not everyone can say this, especially people with disabilities, who are often housed in institutional buildings. But thanks to the work of our agency partner, Community Access Unlimited, more people like Ashley are living in real homes. Not only is this a wonderful change for them, it's a good thing for our community as well.

CAU buys rundown houses, and either replaces them or rehabs them to suit the needs of "differently abled" people. The community's housing stock is improved, and disabled citizens become regular neighbors. Within their homes, they receive compassionate support from an attentive staff of caregivers.

You make this possible! With your support, Ashley and others like her are able to live with privacy and dignity, as full and independent citizens of our community.

When you give to the Westfield United Fund, you change lives …
for the better.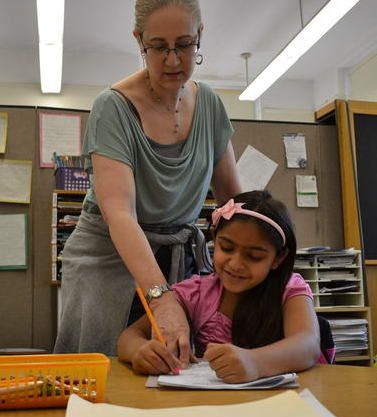 YOU Are Part of Sarah's Story ...
… because You support the Westfield United Fund.
Sarah is one of the students enrolled in the Westfield United Fund's After School Tutoring program, which provides homework help for children in need. Before the program began three years ago, Sarah struggled with her homework, and her grandmother, Carrie, who is her guardian, wasn't always sure how to help her.
Carrie says, "You cannot imagine how much it helped Sarah out with her class work, getting her homework in on time, correctly and finished, and having a teacher to help her out with any questions. Me, being a grandma and out of school for many years, was many times of no help to her and just confused her more, especially where the math problems came in. This program was 'God Sent' for Sarah and me."
"The After School Tutoring program, a/k/a the Homework Club, has afforded students like Sarah the homework support they can't get at home. Before we had this valuable program, these students experienced frustration, failure and ultimately apathy, that led to a decline in their overall academic performance. The Homework Club provides them with a supportive, caring environment that encourages them to take pride in their work, forge close relationships with teachers, and increases the likelihood of their academic success," says Sarah's principal.
Here's how it works: The principals identify the students in their schools who are "at risk" academically, and whose families cannot afford to hire tutors to help them. The children meet with a teacher for an hour after school several days a week, in groups of 6-10 students. The program is offered at each of the six elementary schools, so it's convenient for the students and their families, and staffed by teachers from those schools, who are familiar with the curriculum and can communicate easily with the students' homeroom teachers. It's a "Win-Win" for everyone involved, and your support makes it possible.
Thank you for enabling us to provide this program for Sarah and others like her. Together, we're making a difference!