Welcome to the Westfield United Fund!
Our mission is to help people in our area who need care and social services.
Our purpose is to fund quality programs provided by independent agencies approved by the Westfield United Fund. We strive to identify unmet needs and to support programs and services that address the needs of individuals, families, teens, children, and seniors, including those with physical and psychological disabilities.
Our goal is to be a community resource for residents in need as well as those looking for ways to give back.
News & Announcements
Lavy House to present "Dementia/Alzheimer's: What You Need to Know Right Now"
Join us at The Lavy House on Tuesday, February 23 at 11:30am for a light lunch and an informative presentation by Marilucy Lopes, LCSW, Manager of the JFS Alzheimer's & Dementia Family Caregiver Support Program. This presentation, funded by a grant from the Jewish Community Foundation of Greater MetroWest NJ, is part of a series of programs that are free and open to the entire community at The Lavy House Senior Resource Center.
Lavy House presents "Falls Prevention and Safety in the Home"
Thanks to Karen Winter, RN, from Jewish Family Service of Central NJ, who gave a great presentation about Falls Prevention and Safety in the Home on Tuesday, January 26, 2016. Ms. Winter highlighted both the internal (health-related) causes of falls as well as the external (environmental) causes. Great information for seniors and those who love them!
Stay tuned for information about our next presentation in February.
Pictured above (l-r): Maris Chavenson, JFS Social Worker; Karen Winter; Marion Lavy, Donor of the Lavy House and Deirdre Gelinne, Westfield United Fund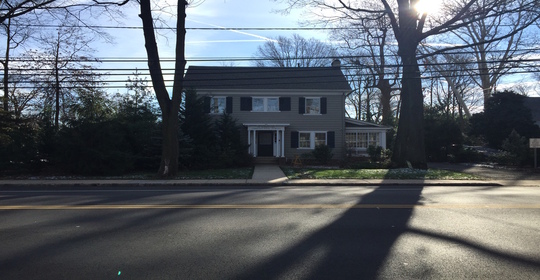 Volunteers Needed for Our New Senior Resource Center
The Lavy House Senior Resource Center is a joint project of the Westfield United Fund and the Congregation of Temple Emanu-El. It is located in the Dr. Norman Lavy Community House, 748 East Broad Street, adjacent to the Temple property. The purpose of the center is to provide free information about local programs and services for all seniors in our community and their families.
We are looking for adults who can give 3 hours (9-12 or 12-3) once or twice a month to staff the center and meet with seniors and/or family members who are seeking information about local services. The Center is open Mon-Thurs from 9am-3pm. No experience is needed, just a friendly attitude and a desire to help! Call our office at 908-233-2113 or send an email to contact@westfieldunitedfund.org for more information.
In addition to our volunteers, there is a licensed social worker on-site every Tuesday, who will meet with families and individuals and provide counseling if needed. This service is made possible by Jewish Family Service of Central NJ, through a grant from the Jewish Community Foundation of Greater MetroWest NJ. 
Amazon Smile Program
Did you know that you can support the Westfield United Fund through the Amazon Smile program? When you shop with Amazon, they will donate a portion of your purchase to us! Just click on the following link, or paste it into your browser:
http://smile.amazon.com/ch/22-1616758
Coldwell Banker East Supports WUF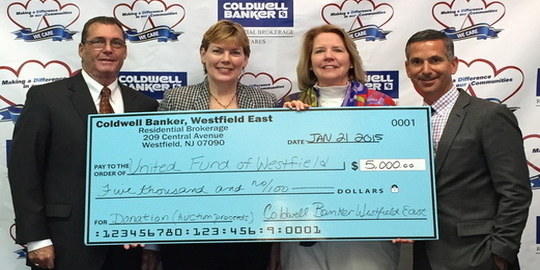 On January 21, 2015, our Executive Director, Deirdre Gelinne, happily accepted a generous donation from a local Coldwell Banker office, Westfield East. The agents conducted an internal fundraiser in November, and donated the proceeds to several local charities. We are grateful and proud to be chosen as one of their recipients. Many thanks, Coldwell Banker! 
Pictured in the photo above are John Bradley, Sales Manager of the CBWE office, Deirdre Gelinne, Bernadette Houston and Frank Isoldi. Bernadette and Frank are WUF trustees as well as Coldwell Banker agents.
Meet The Origami Club Kids!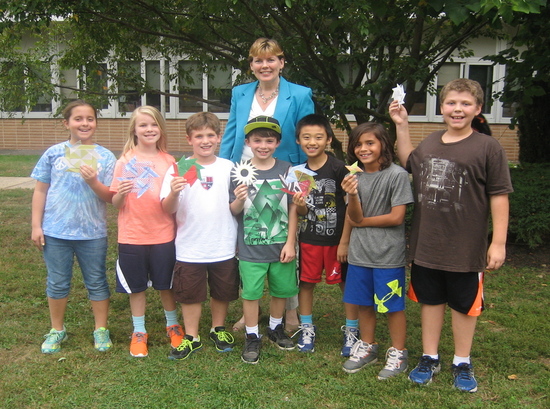 A group of fourth graders at Jefferson School who call themselves the Origami Club recently donated $155!  As Cottler Vierschilling explained in a letter to the WUF, he and some of his friends at school wanted to do something to help people in our community. They had also become interested in origami, the Japanese art of paper folding, and enjoyed learning to make a variety of shapes. They decided to form the Origami Club and began building an inventory of different shapes, following the instructions they found on Youtube. They made about 350 swans, stars, etc., which they sold to classmates at Jefferson School, along with lemonade.
Cottler's parents suggested that they donate the proceeds to the Westfield United Fund, since we help lots of people in the community. This was our first donation from a kids club! It's wonderful to see a group of kids who care about others in the community, and take action to help. What a great example of compassion in action!